Yamaha 1967 Outboard Motor Manuals

1967 Yamaha Outboard Motor Service Repair Manuals

On all Yamaha outboards manufactured before April 2005 the last letter of the model name designates the year of manufacture.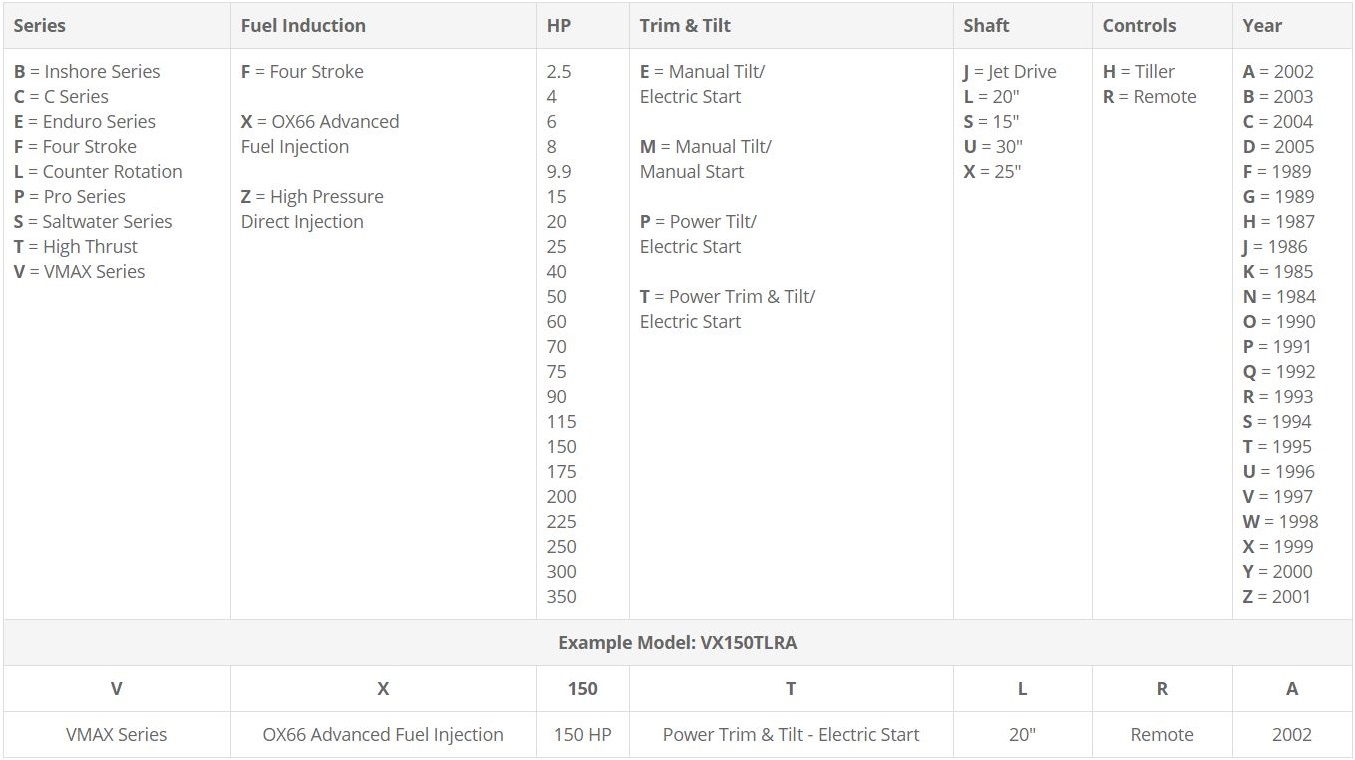 Click the Outboard Code Reference Chart here to determine your outboard's year from the model name. After April 2005 Yamaha started designating outboards by generation, starting with the letter A. 2006 and newer models/generations are indicated with a letter of the alphabet between the digits indicating the horsepower and the control/tilt method.
Select 1967 Yamaha Outboard Boat Motor Models to locate Yamaha Service Manuals
Select 1967 Yamaha Outboard Boat Motor Model
3.5HP
?HP
7.5HP

Reference Sources:
The 1967 Yamaha P-35 outboard boat motor model, 3.5hp
The P-35 was the export version of Yamaha's P-3, an outboard that first appeared in 1961. Yamaha started exporting outboards to the USA in 1967, this was the most junior of the 3 models they offered. In July 1968 Popular Mechanics put out an article titled "Outboards From Yamaha" which included the Yamaha P-35. The Yamaha P-35 power-head is a rotary valve, loop charged motor that develops its 3.5 horsepower at 4,500 RPM. The Popular Mechanics article indicates it weighs in at 35lbs.
For more information about the P-35 visit: www.oddjobmotors.com/yamaha.htm
Model: P-35, PC-35
Year & Model: 1967, 1968
Horsepower: 3.5 @ 4,500 rpm
Cylinders: 1
Bore: 1.77
Stroke: 1.57
Ignition: Mitsubishi magneto
Point Gap: .014
Cooling: Forced air & water via splash-tube
Retail price when new: $146.95
Weight: 35 lbs.
Oil/Gas Mix: 24:1
Spark Plug: NGK - B-7H
Yamaha 1967 PC-3 Outboard Motor Video