Evinrude Outboard Service Repair Manuals

Evinrude Workshop Manuals
Directory: Evinrude Outboard Boat Motors
Evinrude Outboards, a Brief History
Evinrude Outboard Motors began as a North American company founded by Ole Evinrude in Milwaukee, Wisconsin in 1907 which was a manufacturer of outboard motors for boats. From there forward Evinrude saw many changes in ownership and mergers for several decades until the year 1929 brought Ole Evinrude full circle with a partnership acquisition of his former company Evinrude Motors on February 23, 1929. Art this time the Outboard Motors Corporation (later renamed the Outboard Marine Corporation) was formed. It became the publicly traded Outboard Marine Corporation (OMC) since 1935, However, OMC filed for bankruptcy in 2000. It is now a subsidiary of Canadian Multinational Bombardier Recreational Products.. Continued below
Evinrude Outboard Motor Service and Repair Manuals
Evinrude Outboard Model Identification and Service Manuals Directory
Evinrude Outboard Boat Motor OEM Factory Service and Repair Manuals
Locate OEM Evinrude Outboard Boat Motor Manuals By Year

1960
1970
1980
1990
2000
2010
1961
1971
1981
1991
2001
2011
1962
1972
1982
1992
2002
2012
1963
1973
1983
1993
2003
2013
1964
1974
1984
1994
2004
2014
1965
1975
1985
1995
2005
2015
1966
1976
1986
1996
2006
2016
1967
1977
1987
1997
2007
2017
1968
1978
1988
1998
2008
2018
1969
1979
1989
1999
2009
2019
Evinrude, The Early Years
Locate OEM Evinrude Outboard Boat Motor Manuals By Year

1910
1920
1930
1940
1950
1911
1921
1931
1941
1951
1912
1922
1932
1942
1952
1913
1923
1933
1943
1953
1914
1924
1934
1944
1954
1915
1925
1935
1945
1955
1916
1926
1936
1946
1956
1907
1917
1927
1937
1947
1957
1908
1918
1928
1938
1948
1958
1909
1919
1929
1939
1949
1959
Evolution of Evinrude Outboards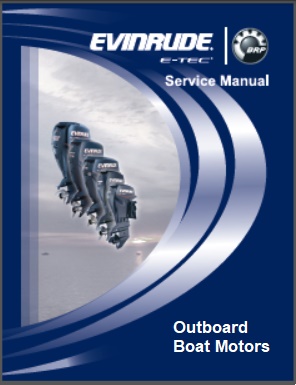 After founding Evinrude Motors of Milwaukee in 1907, Ole and his wife Bess (who was the author of the catchy advertising slogan ("Don't Row! Throw the Oars Away!") built the company into a commercially viable operation that eventually began to thrive despite business-related machinations, mergers, non-compete clauses and buyouts.
Innovation was always key, even as the country slogged into the Great Depression. Industry firsts included outboards with electric starters, folding shafts and, eventually, a two-stroke configuration that generated a thundering 40-hp.
In 1933 Bess Evinrude died prematurely and a devastated Ole died the following year. His son Ralph became president of Outboard Motor Corporation, which would eventually become Outboard Marine Corporation.
Evinrude Outboards Ownership Transitions
In the year 2000, OMC, the owner of Evinrude at the time since 1935 was forced into filing Chapter 11 bankruptcy, and in 2001, Bombardier Recreational Products acquired Evinrude and Johnson, making them subsidiaries.
Under Bombardier leadership, a revolutionary new design that became known as the E-TEC direct injection model improved fuel efficiency and led to better emissions. A pinpoint oiling system reduces both oil usage as well as petroleum contamination to the environment.
From there the focus on reducing maintenance rebuilt the company's reputation for reliability with their E-TEC motors. The E-TEC was the first outboard engine ever to win the United States EPA's 2004 Clean Air Excellence Award in recognition of its low emission levels. Evinrude's new E-TEC model engine designs come in outputs ranging from 15 to 300 horsepower, and the even newer E-TEC G2 (generation two) line-up ranges from 115 to 300 horsepower.