Yamaha Outboard Service Manual
LIT-18616-02-71

Yamaha Outboard Boat Motor Service & Repair Manual
Delivery: .pdf manual delivered by download link sent to purchasers PayPal email address. Purchaser is also redirected to download page after purchase.

Price: $19.98 USD
Secure Payments Through PayPal
Yamaha Outboard Manual LIT-18616-02-71
Model Year: 2004 - F115TLRC F115TXRC LF115TXRC
Model Year: 2005 - F115TLRD F115TXRD LF115TXRD
Model Year: 2006 - F115TLR F115TXR LF115TXR
Model Application Survey: Yamaha Specs LIT-18616-02-71.pdf

Service Manual Cover: F115C LF115C Yamaha Marine Outboards
Engine Type: 4 Stroke Inline DOHC
Horse Power: 115HP
Number of Cylinders: 4
Number of Carburetors: EFI
Drive Unit: F-N-R
Manual Format: .pdf document
Description: This is a full OEM Yamaha marine service and repair manual that covers applicable outboard motors in their entirety.
This includes complete teardown and reassembly, acceptable tolerances, maintenance, troubleshooting, lubrication, scheduled service, etc.
Yamaha Service Manual Contents: 349 Pages
General Content: variables apply based on unit characteristics, i.e. weather your unit has power trim, electric start, steering handle, recoil starter, lighting coil, etc.
General Information

Identification
Safety while working
Special tools

Specifications

Maintenance specifications

Periodic Inspection and Adjustment

Pre-delivery service
Periodic service

Fuel System

Fuel system layout
Carburetor

Power Unit

Power unit removal and installation
Power unit disassembly
Cleaning and inspection
Assembly and adjustment
Recoil starter: if applicable

Lower Unit

Removal and disassembly
Cleaning and inspection
Assembly and adjustment
Installation

Bracket Unit

Upper casing and bottom cowling
Bracket unit
Power trim and tilt unit: if applicable
Power trim and tilt motor
Steering handle: if applicable

Electrical System

Electrical components
Wiring diagram
Ignition system inspection
Lighting system inspection
Fuel enrichment system inspection
Overheat warning
Electrical starting system
Wiring inspection

Troubleshooting

Engine and related parts
Gear shifting
Electrical system

Yamaha Marine Outboard Motor OEM Service Manuals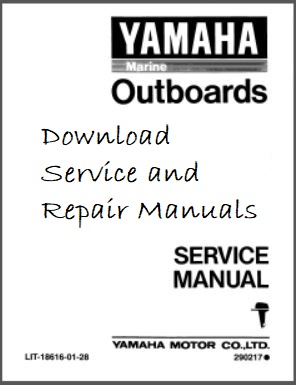 Directory: Yamaha Outboard Manuals
watercraftmanuals.com, helping you get things done!